Contractor's license #: 821510
Timberline Roofing Solutions is fully licensed, bonded and insured; with Workers' Compensation Insurance and General Liability Insurance. We are happy to provide certificates of our insurance policies upon request.
• We recognize your concerns!
Homeowners have told us they need a company that they can depend on; they need estimates that are detailed and accurate. They expect prompt, courteous, efficient and honest service. They want a warranty that provides genuine peace of mind.
• Choosing the Right Contractor
Timberline Roofing Solutions, Inc. is committed to providing superior customer service and excellence. We have plenty of references and are very thorough in explaining any work to be done and all costs involved before work commences.
• Buyer Beware
Never take the risk of hiring an unlicensed or uninsured contractor.
Always request verification of a contractor's insurance policies. (see letter from the Contractor's State License Board)
Necessary insurance policies should also include a current General Liability Insurance Policy, although not required by law. Using a contractor who carries a valid general liability policy provides added protection for the homeowner.
• Check State License Status
The Contractors State License Board has specific licensing requirements; check the status of our Contractors License/Workers' Compensation Insurance.
Click here to check our status
Timberline Roofing Solutions is recognized by the following manufacturers as an approved applicator:
GAF-Elk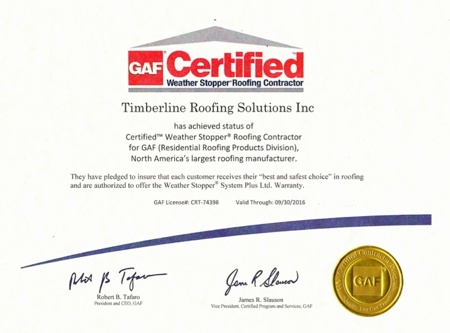 CertainTeed ShingleMaster™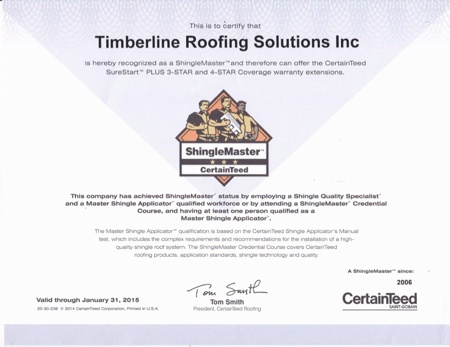 Air Vent Inc.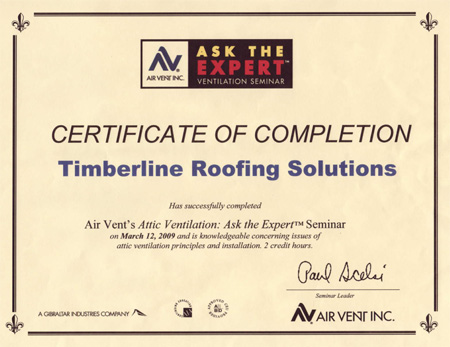 IKO Shield.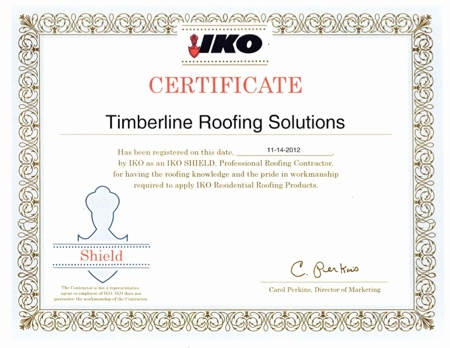 Better Business Bureau 10 Years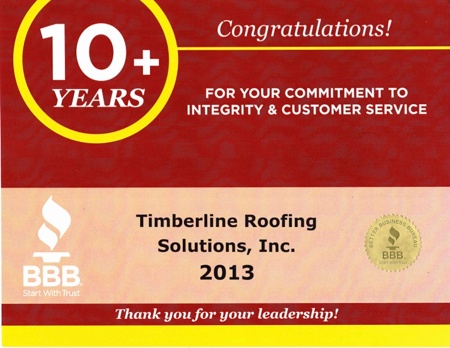 Better Business Bureau